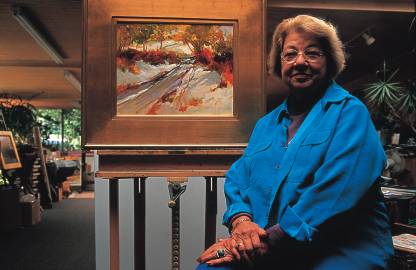 Ann Templeton is renowned for her use of transparent, creative color and her abstracted landscapes. Primarily a plein-air painter, she has developed techniques over her 30 years of painting to capture the landscape quickly and to interpret it with her unique vision of color and design. She has introduced many students to her award-winning techniques in workshops she has taught in the U.S. and other countries. She is a Signature Member of both Knickerbocker Artists, USA, and the Pastel Society of America. She is the founder of Alla Prima International and a member of many other art organizations.
Mrs. Templeton's web site is www.anntempleton.com.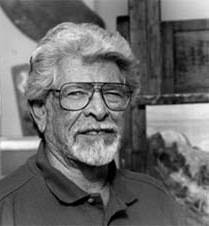 Supporting artist William F. Reese has received many national and regional awards over the last 40 years including the Robert Lougheed Gold Medal from the National Western Heritage Museum, two silver medals from the National Parks Academy for the Arts, and the Best of Show Colonel Smith Award from the National Wildlife Art Museum. Many art magazines in the last 35 years have published articles on his art. He was the subject of an award-winning book by Mary N. Balcomb entitled Wm. F. Reese, American Artist published in 1984, as well as Masterworks of American Art, written by Arlene Kirkpatrick and published in 1985.
Mr. Reese lives in Washington State. His web site is www.wmfreese.com.
Supporting artist Walt Gonske was a successful illustrator in New York for a number of years before moving to New Mexico, where he began to paint almost exclusively on location in the plein-air tradition. His rich colors and bold brush strokes applied loosely to the canvas have become his signature style. Mr. Gonske has been described as a landscape artist whose paintings "delight our eyes, ignite our memories and inspire fresh visions." Educated at the Frank Reilly School of Art in New York City, Mr. Gonske has won many awards, including several from the National Academy of Western Art, and he has been featured often in Southwest Art.
Mr. Gonske's web site is www.waltgonske.com.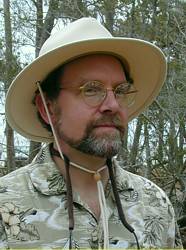 Author and artist Michael Chesley Johnson is a Contributing Editor for The Pastel Journal. He has also written for American Artist, The Artist's Magazine and Southwest Art, among other national and regional publications. A painter himself with representation in several galleries and a workshop instructor, his is a Signature Member of the Pastel Society of America. He speaks the language of artists and brings this skill to his writing. He winters in New Mexico and summers on Campobello Island, New Brunswick, Canada.
Mr. Johnson's web site is www.michaelchesleyjohnson.com.